LabArchives announces integration with Typeset – Apr 26, 2018
Typeset is a research writing, formatting and collaboration platform built for journal submission. With this new integration you can now directly import images from your LabArchives digital lab notebooks into your documents on Typeset.
Learn more in this instructional video: http://labarchives.kayako.com/Knowledgebase/Article/View/339/226/79-typeset-integration, or contact acadtech at cornell.edu for assistance.
---
LabArchives to release several functionality enhancements – Dec 20, 2017
LabArchives has announced some updates to be released in the next few weeks:
Entry Collaboration
The new entry collaboration workflow feature provides instant notification that the entry is being edited. This will prevent editing conflicts and allows all collaborators to see the latest revisions as they are completed. The collaboration feature works for Rich Text Entries, Plain Text Entries, Headings, Sketches, PubMed References, and Widgets.
Chemical Sketcher Widget Upgrade
The Chemical Sketcher widget (by ChemDoodle®) upgrade will bring new drawing tools that include rings, chains, templates, atom label tools and more. It also includes the ability to draw reactions with text annotations and a structure or sub-structure copy and paste function. It will make it easier to create and view complete chemical reactions.
PDF Generation Tool
The ability to download your notebook as a PDF will be more robust. You will now have options to include comments or exclude empty folders along with improved page naming and a more complete representation of your notebook.
NIST 800-171 Compliance
LabArchives will be compliant with NIST 800-171 by December 28, 2017 with several additional upgrades to the platform. If you work with Controlled Unclassified Information as part of a government contract, LabArchives will support your work within compliance standards.
---
LabArchives Adds Page Signing and Witnessing Features – Oct 18, 2017
LabArchives announced that they've introduced page signing features:
"This new workflow provides new controls for page signing and witnessing within a notebook, as well as conferring page signing and witnessing privileges to designated notebook users. The workflow facilitates communication between page signers and witnesses (or co-signers) with email notifications indicating a page is ready for review and witnessing.

These additions give notebook owners complete end-to-end workflow control following the 21 CFR Part 11 guidelines for electronic signatures in research notebooks. All signed pages, including those that are witnessed, are "frozen" and no additions or changes can be made.

Visit our knowledgebase to learn more about the new Page Signing and Witnessing workflow process."
Want to know more? Check out their instructional video!
---
LabArchives Interface Update – July 29, 2016
LabArchives announced that the appearance of the Navigational and Control Toolbars will be updated tonight. This "newest release provides a cleaner appearance of the navigation panel of the product, as well as more modern icons, larger fonts, more consistent design elements. These updates follow on a release a few weeks ago of new standard attachment icons for file types (where a preview is not available) which provide the user with more information as to file type and source."
If you have any problems or questions, please don't hesitate to get in touch using acadtech at cornell.edu.
---
LabArchives Releases Mobil App Update – November 6, 2014
LabArchives announced release of Version 2.8 of the iOS Apps to the iTunes App store. It was available as of 7 November.
V.2.8 has two new enhancements:
Enhanced "export" capability that enables users to transfer files from other Apps directly into LabArchives, choosing the appropriate location. All Apps that produce PDF, JPGs, and other supported file types on exports will work with LabArchives.
For instructors with the Classroom Edition, a new option has been added that enables them to include student Notebooks in the list of available Notebooks. Since the "Course Manager" is not available from within the App, this mechanism is desirable to those instructors who wish to access student work via the App.
If you have any problems or questions, please don't hesitate to get in touch using atc_support at cornell.edu.
---
LabArchives Releases Mobil App Update – October 21, 2014
LabArchives announced release of Version 2.7.3 of the iOS Apps to the iTunes App store. It is expected to be available within a few days.
V.2.7.3 includes various minor enhancements and fixes for the following:
iOS 8 Rich Text issue:  there were occasionally issues when entering or editing Rich Text entries. Tapping "Enter" at the end of a line would sometimes cause the cursor to jump to the beginning of the entry, rather than to the beginning of a new line. The cursor would also sometimes disappear while editing.
Entries cannot be added to empty pages: Entries could not be added to empty pages, regardless of user permissions.
Files imported/opened from other apps should be saved with original file name: The Search icon should be available in the bottom navigation bar whenever the notebook/folder/page navigation screen is displayed. However, after performing a search and returning to the navigation page, the Search icon was no longer displayed. The Search icon did not come back unless a page of entries was displayed and exited, or the app itself was relaunched.
If you have any problems or questions, please don't hesitate to get in touch using atc_support at cornell.edu.
---
LabArchives Releases Mobil App Update – September 24,  2014
LabArchives announced release of Version 2.7 of both the Android and iOS Apps to the Google Play and iTunes App stores.
V.2.7 adds notebook Searching; an enhanced notebook navigation pull-out control; the ability to receive files sent to the LA app from other apps and add them to the user's Inbox; in addition, there are a number of minor bug fixes.
If you have any problems or questions, please don't hesitate to get in touch using atc_support at cornell.edu.
---
LabArchives Server Update – June 30, 2014
LabArchives updated their software on the US server on the evening of June 30, 2014. The major change is a new feature that provides the ability for LabArchives Management to make announcements to users when they log into their LabArchives account. This will be useful for alerting users to important news, such as major new features or scheduled maintenance.
If you have any problems or questions, please don't hesitate to get in touch using atc_support at cornell.edu.
---
LabArchives Releases Mobil App Update – June 13, 2014
LabArchives has released a new version of the mobile app (V.2.6.2), available now at the iTunes store and Google Play. The update is a maintenance release and includes a minor performance enhancement related to the display of embedded images in Rich Text entries.
If you have any problems or questions, please don't hesitate to get in touch using atc_support at cornell.edu.
---
News from LabArchives: New LabArchives Release with Mobile App Update – May 25, 2014
In the latest server update from LabArchives, minor bugs were fixed and mechanism for handling the insertion of images into rich text entries was improved.

From LabArchives:
As you may recall, images that were embedded into rich text prior to this release were "digitized" into hexadecimal strings and inserted into the text. This caused some entries to become extremely large, leading to individual performance issues for some users.
With the new release (which will look the same to all users), the image is stored in its original form in our server and an internal link is created to that image. The customer experience is the same, but the rich text entries remain small which eliminates the size-related performance issues that had occurred.
In order to accommodate this new functionality we also created new versions of both our iOS and Android Apps (V 2.6) which are now live on Google Play and iTunes. These new releases include the ability to handle the new method of embedding images in rich text. Those with older versions of the App will see an "unknown image" icon for any embedded images that were inserted into rich text subsequent to today.
---
News from LabArchives: Handwriting Recognition on your Android Tablet or Phone – May 21, 2014
Many of our customers have been asking for the ability to enter notes on their mobile devices using their finger or stylus and have them recognized into their LabArchives Notebooks.  While we are working on a "native" solution for our Apps, we have found a great (free) mobile App for Android devices that will allow you to use this feature today!
Developed by VisionObjects, the undisputed leaders in handwriting recognition technology, this App will install an alternative entry method onto your device that will enable handwriting as a means of "typing" in your notes.
Currently in Beta, it is called MyScript Stylus;  we have been testing internally, and find that it works great for those who prefer this method of input.
This App is currently not available for iOS, but we do plan to create a method for handwriting entry within our App in the near future.
Give it a try…the technology has gotten incredibly powerful!
---
LabArchives Server Update – May 1, 2014
Two updates were made:
1) New login screen:  More modern and attractive…same functionality.  See the image above. [Note that when logging in via http://labarchives.cornell.edu, you will not see this login screen.]
2) Spell Checker modification:  The spell checker that was being using for rich text has caused some performance issues, especially in very large entries.  Because all supported browsers now include spell checkers, LabArchives has switched the rich text editor to use these instead.  Clicking on the "ABC" icon in the rich text editor, or right-clicking on a flagged word, will give instructions on how to use this feature.
---
Updated User Interface and other news – April 18, 2014
From LabArchives:
We are pleased to announce that we will be updating our User Interface this weekend.  While all the functionality of our platform remains the same, we have removed the old menu bar and replaced it with a more modern, streamlined look that provides additional  screen space for the most commonly used activity – entering and viewing data in the pages of your Notebooks.
As mentioned in the recent newsletter, this new release also includes a "maximize/minimize" button which will enable you to dedicate the entire window to the current page:   

Over the coming weeks, we will be updating our Help Notebook and tutorials to reflect this updated interface.  For now, the following image will give you a quick overview of the location of the various menu options on the new interface: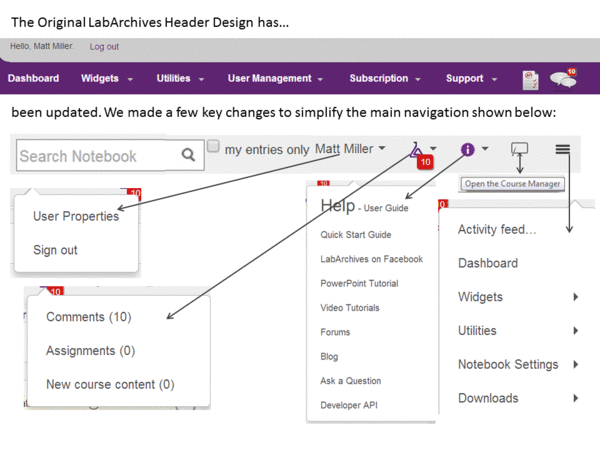 In addition,  LabArchives is now including an "Auto Logout" feature.  In the past, users could remain logged into LabArchives indefinitely.  The new feature will automatically log a user out if they have been logged in for 24 hours or more AND have not had any activity in the previous hour.  All work will be saved via the autosave function, and no special message will appear. When users return to their computer, they will see the login screen.
---
LabArchives server update – minor bug fixes – April 14, 2014
Signing of a page now appears in the Activity Feed
The intermittent issue of movement of Entries within a Page (i.e they did not remain in the same place on the Page) has been corrected
Pages now cannot be signed until a Save has been completed, avoiding potential Checksum errors (i.e. Signing a page before Saving was complete would cause LabArchives to record that the Page had been changed AFTER the signature)
---
New LabArchives version released – April 9, 2014
In addition to a few minor "fixes", the principle feature enhancement is the ability to rotate images.  Where formerly the link said "View Online/Annotate", it now says "View Online/annotate/rotate".
Some notes on this update:
As with most new versions, the old code is often cached in the user's browser.  If users does not see this new link, try logging out of LabArchives, clear the browser cache, and refresh the browser.
Unfortunately, there was no good way to rotate annotations along with the image.  Therefore, when a user attempts to rotate an annotated image, they will receive a message that the annotations will be removed (they can agree or disagree).  If they choose to remove them, of course the annotations will be stored in the earlier version of the image.
To rotate an image, simply use the the two new buttons on the annotator which now appear on the upper right :   
---
New iOS App released – March 11, 2014
Version 2.5 of the iOS App is now available on the Apps Store. This latest release includes Notifications for our iPad and iPhone users, and also corrects a bug that some users experienced editing rich text entries.  After you have installed/updated the mobile app on your phone, you will need to configure LabArchives with Cornell NetID.  Go to LabArchives FAQ.
---
New Android App released – February 27, 2014
Version 2.5 of the Android App is now available on the Google Play Store! It includes the ability to view Notifications from within the App.